Specifications / Drawings
Attention Architects, Engineers and Developers!
Below you will find resources for common FDC Gates. Included are descriptions on many of our most requested gate packages, along with gate CAD blocks and a PDF version as well. Each gate is also paired with an appropriate operator to handle daily use.

FDC Strongweld Defender Ballistic Gate System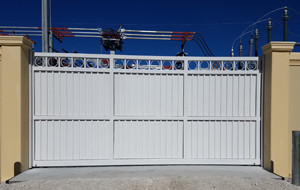 FDC Strongweld Defender Ballistic Slide Gate System
Used at Utilities Companies Substations & Power Plants
Double Clear Openings up to 40' / HySecurity SlideDriver 80
Double Clear Openings up to 100' / HySecurity SlideDriver 200
FDC Strongweld Heavy Duty Slide Gate System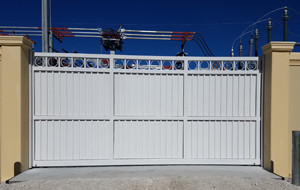 FDC Strongweld Heavy Duty Slide Gate System
Used at Utilities Companies Substations & Power Plants
Double Clear Openings up to 40' / HySecurity SlideDriver 80
Double Clear Openings up to 100' / HySecurity SlideDriver 200
FDC Strongweld Tilt Gate System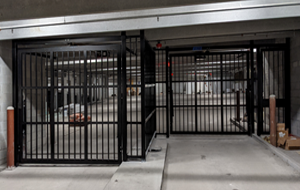 FDC Strongweld Tilt Gate System
Parking Garage Door / Grille System
Individual Lane Openings up to 11'
Matched with LiftMaster HCTDCU

FDC Strongweld Industrial Cantilever Gate System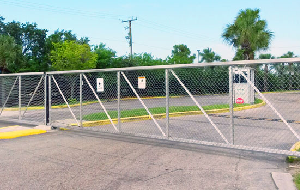 FDC Strongweld Industrial Cantilever Gate System
Truck style cantilever gate – used at Power Plants where there is no area for back track.
Double Clear Openings up to 90'
Matched with HySecurity SlideDriver 40/50VF
FDC Strongweld Commercial Cantilever Gate System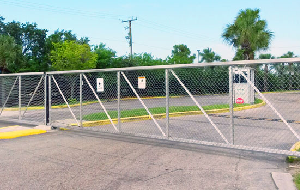 FDC Strongweld Commercial Cantilever Gate System
Truck style cantilever gate – used at Power Plants where there is no area for back track.
Double Clear Openings up to 80'
(based on max 40' leaf per HySecurity Slidesmart DC manual)
Matched with HySecurity Slidesmart DC
FDC Strongweld Industrial Slide Gate System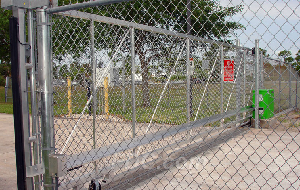 FDC Strongweld Industrial Slide Gate System
Standard Strongweld V-track gate design, industrial/commercial
Double Clear Openings up to 90'
(with engineered gates up to 45' openings)
Matched with HySecurity SlideDriver 40/50VF
FDC Strongweld Commercial Slide Gate System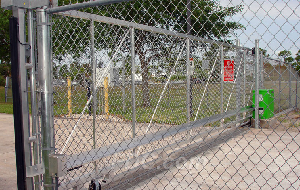 FDC Strongweld Commercial Slide Gate System
Standard Strongweld v-track gate design
Double Clear Openings up to 80'
(based on max 40' leaf per HySecurity Slidesmart DC)
Matched with HySecurity Slidesmart DC
FDC Strongweld Swing Gate System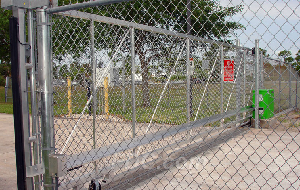 FDC Strongweld Swing Gate System (Use Strongweld v-track style gate construction but modified to swing)
Double Clear Openings up to 40' (based this off max 20' leaf per HySecurity Swingsmart DC manual)
Matched with HySecurity Swingsmart DC
FDC Strongweld Telescoping Commercial Slide Gate System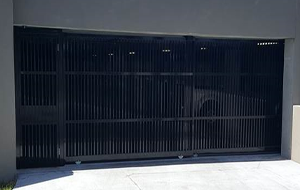 FDC Strongweld Telescoping Commercial Slide Gate System
(limited back track area)
Double Clear Openings up to 40'
Matched with Rotary Gate Systems SL-1000
Matched with HySecurity Slidesmart DC